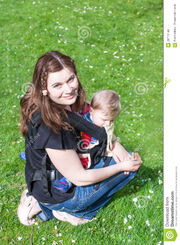 Gidget Ford
Edit
Basic Biography
Edit
Gidget Ford was the female tribute for the 42nd Annual Hunger Games. She was created by BirkaranDaReader and brought to life by LadyCordeliaStuart. Gidget took some tesserae and a notable fact is that Gidget was the second non-resurrected pregnant tribute in this universe, after Tillo Peters of District 8, the third pregnant tribute overall, after Vera Busattil and Tillo, as well as the first to be aware of their pregnancy in the Games. She notably went into labour during her interview, alarming new Master of Ceremonies Caesar Flickerman. Gidget placed 13th and was accidently pushed to death by fellow ally Briar.
Ad blocker interference detected!
Wikia is a free-to-use site that makes money from advertising. We have a modified experience for viewers using ad blockers

Wikia is not accessible if you've made further modifications. Remove the custom ad blocker rule(s) and the page will load as expected.