Jonah Breaker is the winner of the 5th Hunger Games.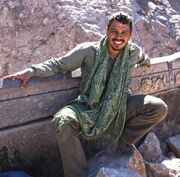 Games Description
Edit
Arena: Desert
Jonah was expected to die early in such an unfamiliar Arena. However, he anticipated such a possibility and spent his training time learning about different environments. Because of this, he was able to find water by drinking from cacti. Nearly all of the Tributes died of dehydration or sunburn within four days, making this the first Games after the first to be considered a failure. Other than one severely sunburned Tribute that Jonah killed out of mercy, it was not necessary for him to kill anyone in order to win.
Personality
Edit
Jonah viewed the Games very scientifically. After seeing how many people died of simple exposure or dehydration in past years, he was one of the first to recognize the need for simple survival skills. He was not as popular as his District partner, but did gain enough support to be sponsored a spear.
The Games have changed greatly since Jonah won. Later Victors from his Districts were trained and enthusiastic, while the Games meant nothing but the threat of death to Jonah. He was soon overshadowed by Career Victors and is only remembered for being Four's first. He does not regret the obscurity, since he prefers fishing to fighting.
Successful Mentorships
Edit
Mags Cohen
Shane Donegal
Driftwood sculpture
Although he is from Four, Jonah was neither trained nor a volunteer.